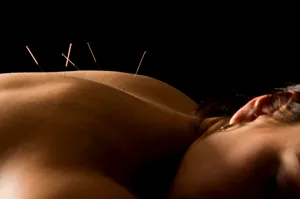 What is Acupuncture?
Acupuncture is a system of medicine used to treat various physical, mental, and emotional conditions and to alleviate pain. It focuses on strengthening the physical condition and harmonizing the body systems to promote longevity and healing. Originating in ancient China, acupuncture is now widely practiced in the West, and is accepted as an effective therapy by the National Institute of Health and the World Health Organization.

How does it work?
Understood traditionally, acupuncture works by circulating qi throughout the vessels of the body. From a biomedical perspective, acupuncture improves microcirculation, regulates the body's respiration, temperature, blood pressure, hormonal secretion and immune response. Acupuncture also stimulates the central nervous system and affects the release of basic body chemicals, called neurotransmitters, throughout the body.

Christine DeLozier, L.Ac. graduated from a three year Master's degree program at the Finger Lakes School of Acupuncture and Oriental Medicine of the New York Chiropractic College. She completed both the Acupuncture and Traditional Chinese Herbal Medicine programs which offered extensive clinical experience treating patients with acupuncture and herbs. She is especially interested in treating acute and chronic pain, skin conditions and mood disorders. Christine speaks Spanish fluently.
Christine DeLozier, can be reached at: (585) 489-9070 or www.NeedleAndHerb.com